Black Crystal Management Training and Workshops are conducted through the COMET Group, a Contemporary Organization Management and Employee Training.


Comet is committed to meeting and exceeding the professional development needs of managers and support staff through training workshops that are affordable, accessible, and designed to meet the specific needs of individuals or groups in any private and or public organizations. These training workshops feature skills and tips to improve participant's personal and professional abilities, earn respect, and get ahead in today's world. Each workshop is designed based on the current management practices in the public and private sectors using comprehensive interdisciplinary learning approach.
The workshops will present, illustrate, and explain the importance and practical application of each subject topic. Training materials in the form of handouts and homework exercises will be provided to participants.
Given the rapid and unpredictable changes in technology, our workshops are very interactive in nature, and tend to focus on current and future challenges faced by both employees and the employers. Several sessions will deal with step-by step role-playing of life events, re-enactment and simulations of critical management policy decisions or incidents. Other sessions will use small group discussions and lectures. By the end of the workshop, participants will have a clear understanding and working perspectives for their role in their respective organization.
Participants will have the opportunity to identify, discuss, interact, debate and share experiences on key practical issues of concern that will be discussed in class. Major policy and/or management issues currently facing contemporary organizations will be discussed. Participants will be able to use what they learn in the training on the job, to enhance their positions, improve their lives, or to implement changes within their organization.
Because of the interactive nature of these workshops participants are encouraged to attend the workshops in their entirety. They will not only be challenged to demonstrate their understanding of the course content through class exercises, but will be required to give detailed analytical reports of the practical application of what they have learned, at the end of each workshop. We offer a variety of management training created for the purpose of improving management skills, advancing career growth, increasing productivity and reducing work related stress.
Educating while increasing the overall efficiency and effectiveness of work is our goal. Therefore, it is an honor and a privilege for Comet to provide administrators, managers, and support staff the essential management tools needed to educate and expand their knowledge, increase productivity and improve morale.
The following training and workshop is offered in Dallas, Texas. However, arrangement can be made for off site workshop and training at the convenience of our clients.
Areas of Management Workshop and Training include but are not limited to

1
Managing and Valuing Diversity
2
Total Quality Management
3
Ethics
4
Anger Management
5
Violence In The Workplace Prevention
6
Domestic Violence Intervention and Prevention
7
Managing Difficult Employees
8
Sexual Harassment Prevention
9
Team Building
10
Mentoring
11
Change Management
12
Delivering Quality Customer Service
13
EEOC, Quota and Affirmative Action: What The Law Says
14
Program Planning and Management
15
Program Evaluation
16
Communication Across Gender
17
Interview Process and Procedures
18
Knowing and Understanding Your Manager (Leadership profile, styles and personalities)
19
Leadership
20
Organization Change and or Development
21
Basic Organization Policy Analysis
22
Strategic Thinking and Planning
23
Facilitation Skills
24
Human Resources Management and Development
25
Time Management
26
Confict Resolution
27
How to Work with the Media
Our most requested workshop is the
Managing and Valuing Diversity Training Workshop
The purpose of a managing and valuing diversity training workshop is to educate, coach, re-train, and increase our sense of understanding about ourselves and other people – especially people who are different from us due to their color, age, nationality, ethnicity, gender, physical abilities/qualities and sexual preferences or affectional orientation. It is an opportunity for all humans to learn how to understand one another.
This managing diversity workshop presents the cross-cultural practices and other social minority group attributes that could help an organization and all its employees achieve greater efficiency, effectiveness, increased productivity, improve quality of work life, and create a work place free of discrimination.
While major sources of influence that directly or indirectly affect business decisions include legal, fiscal, environmental, human resources, service production/delivery, technology, and organizational structure; valuing differences in the context of proper cultural diversity management makes good business sense. This workshop focuses upon an appropriate contemporary management decision-making process, which rejects discrimination based upon race, age, life style, gender, culture and nationality.
This Workshop Teaches a Variety of Alternative Methods for
• Identifying the ontogeny of diversity crisis
• Diagnosing many organizations diversity problems
• Developing current strategies and solutions to the problems
• Empowering employees and managers to deal with diversity issues
• Facilitating current organization structure become more sensitive and responsive to diversity issues
• Implementing broad based culturally sensitivity changes and programs without hurting the organization bottom line
• Developing, coordinating, implementing, evaluating and managing meaningful sustainable diversity changes
effectively
BENEFITS
Cultural diversity brings respect, unity and understanding that foster loyalty, cooperation, tolerance, responsibility, efficiency, trust and a sense of belonging to all members within an organization. The fact still remains that; cultural diversity in modern organization makes good business sense.
OBJECTIVES
Upon Completion of this Workshop, Each Participant Should Understand:
• The differences between the traditional assimilation-oriented organization and the contemporary empowerment-
oriented organization.
• Why learning institutions and corporations are organized as they are today.
• How to explore core dimensions of diversity -one's personal values, stereotypes, prejudice, and understanding the
competitive advantages of a diverse contemporary workforce.
• How to use the knowledge of cultural differences as resources rather than as barriers.
• The differences between Affirmative Action, Equal Employment Opportunity, quota preferences, managing diversity,
and valuing differences.
• How to improve communication across cultures and genders and how to be more sensitive to policy barriers (glass
ceilings or plateaus) inhibiting the progress of women and minorities in the work place.
• How to motivate and encourage employees to use information about their diverse cultures, values and beliefs to
improve the organization.
• How to build a more inclusive organizational culture that works for all employees.
• How to develop strategies to attract and retain the best employees.
• How to apply the materials covered in the reading, lectures, case studies and simulations to actual organization
problems.
• How to conduct a "Cultural Audit" and integrate diversity programs into an organization.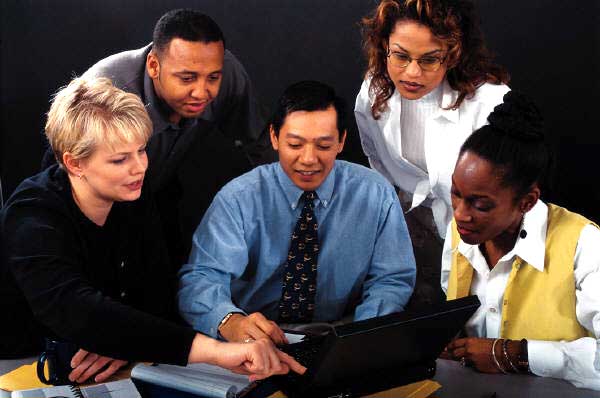 DIVERSITY
We must, we can, and we should, as a people, celebrate our differences instead of fighting over them. It is the only way for all humans of different age, races, cultures, customs, ethnicity, traditions, nationality, gender, religious beliefs and sexual preferences to get along. Since we cannot change our race or escape interacting with other people with diverse race, color and or national origins, we must learn to accept each other for whom and what we are.
Who Should Attend
• Executives & Corporate Officers
• Students, Teachers & Administrative Staff
• Private & Public Managers
• Public Officials and Support Staff
• Production Line Managers or Supervisors
• Training Supervisors
• Secretaries, clerks and receptionists
Service Fee for Workshop
Click Here for a Registration Form
Individual Rate Including Materials.........$ 175
Generous discount is available for groups. Please email or call (972) 931-7258 for more information.
Instructional Designer and Presenter

Dr. Jimmy Etti-Williams has a broad educational background in public policy analysis, organization development and human resource management with extensive professional experience in program planning and evaluation, and economic development. He has conducted workshops for many public and private organizations on various topics relating to Personnel Management Training (Total Quality Management, Cultural Diversity, Motivation, Performance Appraisal, Sexual Harassment, and Corrective Discipline), Regulation, Program Planning Evaluation and Organization Development & Transformation.

Dr. Etti-Williams received a doctorate in Public Administration (with a major in Public Policy and a minor in Organization Management), a Master of Human Relations (with emphases in Organization Development and Personnel Administration), a Master of Public Administration (with emphases in Public Policy and Program Evaluation), and a Bachelor of Science in Geology, all from the University of Oklahoma. He also holds a Master of Arts degree in Political Science (International Relations) from Central State University, Edmond, Oklahoma.

Dr. Etti-Williams was an adjunct professor at various Universities and Colleges. He has taught at the University of Texas in Dallas, University of Oklahoma, Oklahoma Community College and Rose State College in Oklahoma. He has published several professional reports and articles. Dr. Etti-Williams is not only an educator and a certified public administrator; he is a Petroleum Geologist and a consultant for Oil and Gas companies in many countries including the United States for many years. He was a Transportation Engineering Research Project Manager with the Oklahoma Highway Department for several years. The District Manager City of Dallas Planning and Development Building and Fire Code Inspection. He was the owner and CEO of African American Development Inc. and Obatala Enterprises in Oklahoma. Currently, Dr. Etti-Williams is the president and Chief Executive Officer of Black Crystal Enterprises Inc., and COMET Group in Dallas, Texas.
COMET GROUP
P.O. BOX 794734
DALLAS, TEXAS 75379-4734
CONTACT US
COMET Group is a subsidiary and a member of Black Crystal Enterprises Inc.